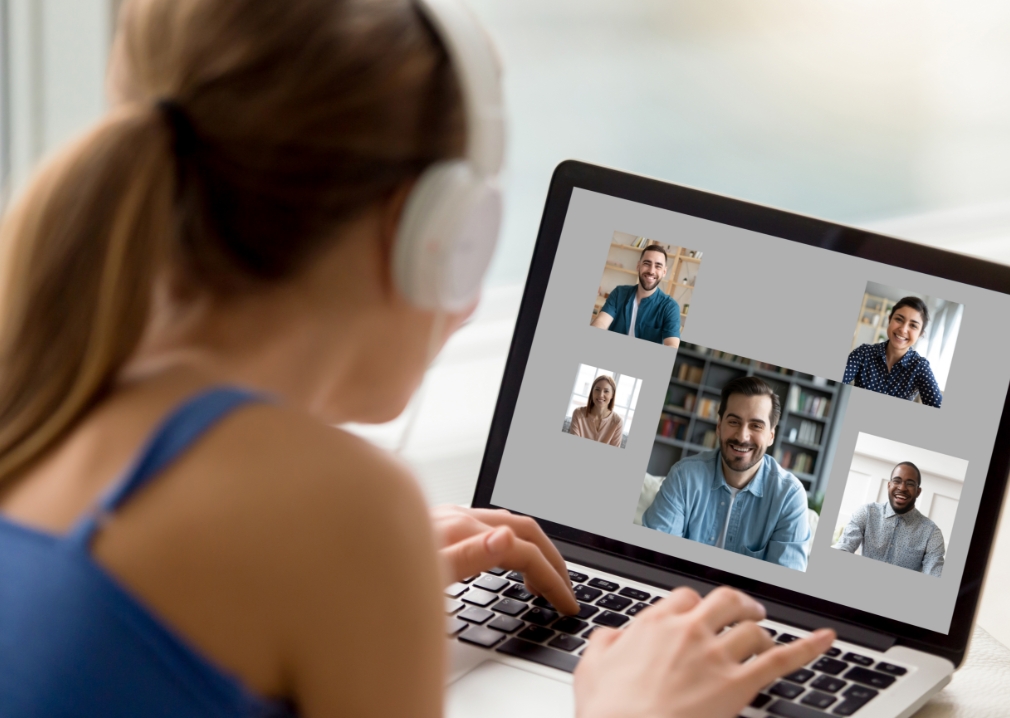 Online Group
English Course
Join a live, online group course and study English in dynamic and engaging classes with qualified teachers in the USA. Students can join our online English course any Monday and are placed in the most appropriate level after completing a comprehensive placement test.
Log-in and achieve your goals from anywhere in the world!
Online Course Features
START ANY MONDAY
LEVEL PLACEMENT EXAM FOR ALL NEW STUDENTS
6 LEVELS OF GENERAL ENGLISH (BEGINNER TO ADVANCED, A1 TO C1)
ADDITIONAL TOEFL PREP MODULE & PRONUNCIATION LEVEL
EACH LEVEL IS 3 MONTHS (13 WEEKS TOTAL)
8 HOURS OF LIVE INTERACTIVE CLASS PER WEEK WITH A CERTIFIED AND EXPERIENCED ESL TEACHER
MORNING AND EVENING SCHEDULES AVAILABLE
COMMUNICATIVE METHOD
PROGRESS TEST AND ACHIEVEMENT TEST
CERTIFICATE UPON COMPLETION
Our Prices
3 Weeks or Less
$125
per week
4 Weeks or More
$100
per week
Buy 10 Weeks
Get 3
Weeks Free!
$125 REGISTRATION, MATERIALS, TESTING, STUDENT PORTAL FEE
Our Teachers And Students
Are saying
I'm very satisfied with my online English classes. My teacher is engaging and dynamic. We have all kinds of activities: listening, speaking, reading, grammar, writing, and we have lots of fun in class. The best part is that I can learn English from anywhere in the world!
Katiuscia
I loved my small group class online. The teacher is very engaging and it's interesting to meet students from all around the world. Studying online is very convenient for me!
Paola
I love teaching online! Classes are very interactive using video and audio so its very similar to teaching in a classroom. Also, my students can attend classes from anywhere so it's easier for them to stay on track with their studies.
Adrianne (Teacher)
Our Teaching Approach
Encourage robust communication in the classroom
Build and reinforce the fundamentals of the English Language on a daily basis.
Use an extensive range of interesting and relevant real-world themes
Promote practical language proficiency
Integrate the four language skills of speaking, listening, reading and writing in every lesson.
Help students learn English, not about English
Do you have questions?
Our friendly Student Advisers will help you decide which option is best for you.
When can I start my online classes?
You can start any day you choose. 

Who will teach me online?
All of our teachers are certified, qualified and experienced ESL teachers. Depending on your level and format, we will have a teacher for you. 

What kind of software and equipment do I need? 
A stable internet connection and a web camera are required. Classes can be accessed on any computer, laptop, or smartphones.

How much is it? 
Please refer to the online group class and online private class pages for more details.

How can I schedule my online English classes?
Contact our student advisers today and get registered! Call, email or text us for more information.   

Can I cancel a lesson?
Group classes can be paused on a "per week" basis only. Private classes must be cancelled within 24 hours or the class is billed as schedule.

Can I reschedule a lesson?
Yes, you must inform your instructor at least 24 hours in advance or the classes are billed as scheduled. 

What if I don't like my teacher?
In the unlikely event that you are dissatisfied with your teacher, please contact the school and the school will promptly replace your instructor.

Do my lessons expire?
Group and Private classes expire one year from the date of purchase. 

What is the refund policy?
In accordance with Florida law, students are entitled to a full refund of all tuition, fees and non-instructional services paid within three (3) business days of signing this agreement, less the value of any lessons or non-instructional services provided. This is the only instance in which nonrefundable fees, as indicated on the official price list, will be given.

Can I transfer my lessons to someone else?
The school will accept requests to transfer the lessons to another student but are not guaranteed.

Do I get a book?
Yes, all new students will receive a book as part of their registration fee.

Can I purchase more lessons before my package is completed?
Yes, you can. 

Can I change my program before my package is completed? 
All requests are handled on a case by case basis.