Kids & Family English Course
Sun, fun and English for the whole family!
A family vacation English package available in Miami, Miami Beach, Orlando & Aventura.
ENGLISH CLASSES FOR YOUR WHOLE FAMILY (3 student minimum)
MONDAY THROUGH THURSDAY: 9:00 AM – 12:45 PM
KIDS (AGE 6-15) STUDY IN A JUNIOR CLASS (GROUP OR SEMI-PRIVATE)
ADULTS (AGE 16+) STUDY IN OUR ADULT GROUP CLASSES
STUDENTS CAN START ANY MONDAY
CERTIFICATE OF PARTICIPATION UPON COMPLETION
ACCOMMODATION & ACTIVITIES AVAILABLE UPON REQUEST
LANGUAGE ON'S KIDS AND FAMILY English COURSE
#TurnYourLanguageOn
Junior Students
Students ages 6-15 study in Junior English Classes. Our teachers offer extensive classroom activities and projects to keep junior students engaged and learning. Junior students are tested pre-arrival.
Adult Students
Students ages 16+ study in our fully accredited English Unlimited Program. We have a six-level program (beginner to advanced) and use an integrated approach, combining reading, writing, listening, speaking and pronunciation into every class.

How can we enroll?
Contact a Student Adviser to get started. We will help you select the best course for you and guide you through the application process.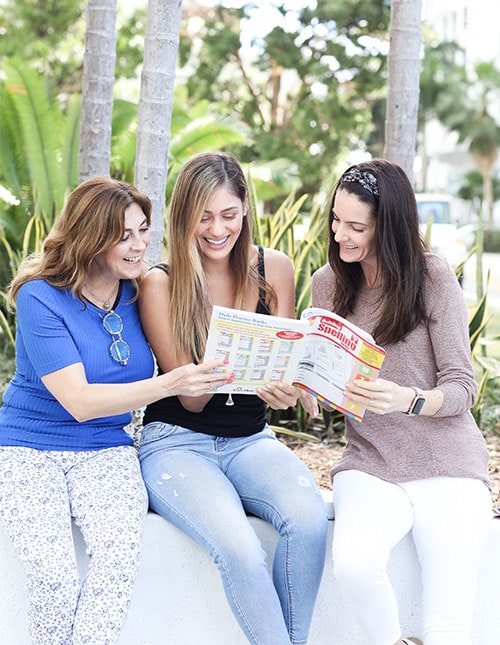 Enroll and start today

Contact us and speak to a Student Adviser
Tell us how many adults and how many juniors will study
Provide us with your arrival and departure dates
Choose your preferred school
Complete the application and enrollment documents
Join us and begin your classes
How much does it cost?
The price for Junior Students is $225 per week plus a one-time Registration Fee of $125. The price for Adult Students is $175 per week plus a one-time Registration Fee of $125. Our Student Advisers are ready to answer your questions, help you enroll and give you our best options.
Students 15 and younger study English with Premium Languages, the private tutorial, foreign language, and test preparation partner of Language On. Courses provided by Premium Languages are not accredited by CEA and do not qualify for F-1 (student) visas.