Why study English in New Jersey?
New Jersey is one of the best places to study English for many reasons. Perhaps most importantly, the overall quality of life in New Jersey is amazing. CNBC, one of the leading news networks in the United States, ranked New Jersey as the best state of all in the United States to live and work in. The CNBC analysis considered many factors, including business opportunities, low crime rates, health care, and other essential aspects that make for a superior quality of life.
The natural environment in New Jersey is beautiful and diverse. There are so many exquisite green spaces that the state has been officially named "The Garden State." In Newark, New Jersey, for example, 94% of the residents live within a 10 minute walk of a park . You'll also experience four distinct seasons, with many fine beaches and beautiful ocean boardwalks to enjoy during the warmer months.
One little known advantage to living and studying English in New Jersey is the relatively low sales tax of only 6.625%. Even better, retail purchases of clothing and shoes are sales tax free!
New Jersey offers a vibrant language learning environment
New Jersey is consistently ranked very highly for its education system, both public and private. Throughout the state's history, it's been the location of some of the best universities in the United States and the world. These include the top-ranked Princeton University and Rutgers University's three campuses. The value given to education along with its diverse population makes learning English in New Jersey exciting and productive. These renowned institutions set high expectations for all educational organizations in the state.
New Jersey is close to world famous cities
Another great advantage to studying English in New Jersey is that it is very close to some of the most historically and culturally important cities in the United States. You can conveniently travel to Boston, Philadelphia, New York or Washington DC by car, air or train. Amtrak, the national US train service, offers high-speed (the Acela train) and regular speed train travel from Newark, New Jersey to all of these fascinating cities. When you study English in New Jersey, you'll be close enough to experience American history first-hand in Boston or Philadelphia. You'll be able to easily visit the many museums and government institutions in the capital, Washington, DC. New York City is a short train trip of only 20 to 25 minutes from Newark, New Jersey so you can easily enjoy all the excitement of the larger city without the expense and stress of living there. Day or weekend trips to all these cities are a great way to take a well-earned break from studying English in New Jersey while you expand your cultural understanding of the United States.
Is New Jersey good for international students?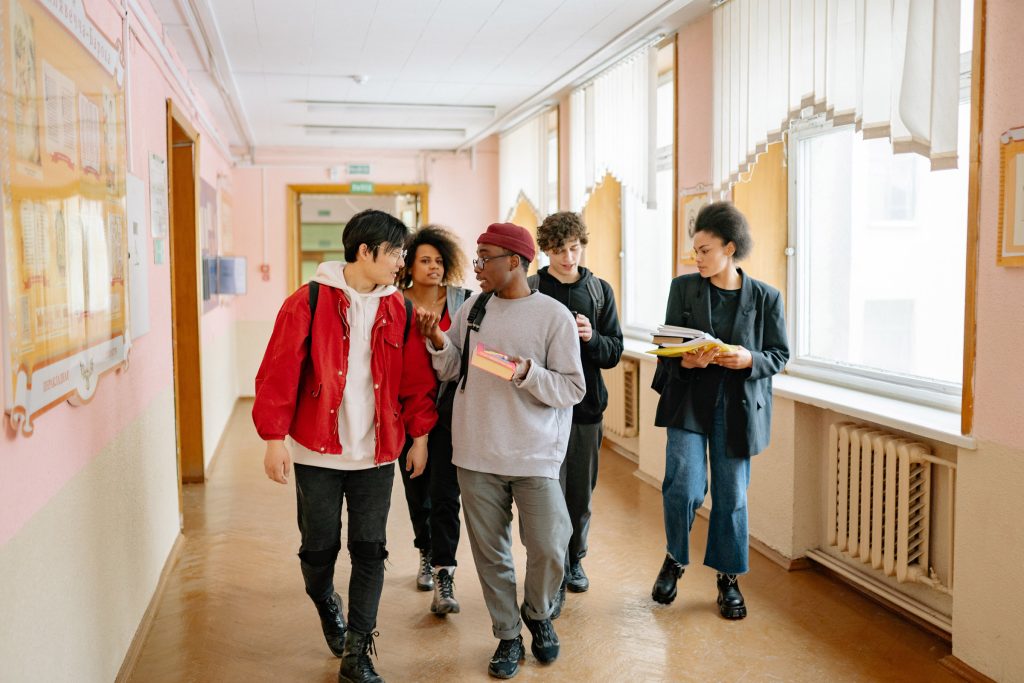 New Jersey is a fantastic place for international students. The presence of many international students in the state's famous universities means that providers of services such as housing understand their unique needs and are accustomed to working with them. The large number of international companies in the state also contributes to an accepting atmosphere for international students. Students from almost anywhere in the world are sure to find authentic restaurants that will give them a touch of home when they feel nostalgic. When choosing an English language school in New Jersey, look for a school with a proven record of successfully enrolling international students.
Quality English language programs
With its diverse population, presence of major corporations, and top quality educational institutions, New Jersey is a great place to find a quality English language program. Look for a school that teaches how to communicate in everyday, practical English which will help you succeed. Many schools offer both Intensive English courses and semi-intensive English courses so you can choose what is best for you. Other specialized course options might also be available, such as test preparation and accent reduction.
You'll find a welcoming community in New Jersey
People come to New Jersey from many countries, and speak many different languages. The proximity to New York makes it a magnet for visitors and immigrants from all over the world who want to enjoy a cosmopolitan environment without the "big city" stresses. The latest census data shows that nearly a third of New Jersey residents now speak a language other than English at home and the population of people who were born outside the U.S. continues to grow. You'll find an accepting environment where English language learners are appreciated for their efforts to learn the new language. Studying English in New Jersey gives you the best of both worlds. You'll find many English learners like yourself but you will also have many opportunities to practice your English in daily life. These factors make studying English in New Jersey an ideal place for international students.
New Jersey offers amazing career and academic opportunities
New Jersey is well-known for great schools at all levels of education. The state of New Jersey's school system ranked as the 3rd best school system in the United States, according to a study done by WalletHub. WalletHub's experts considered several important factors when they determined each state's education ranking. These included reading and math scores, student-to-teacher ratios, graduation rates, and the use of technology in the classroom.
New Jersey is also home to some of the most famous American universities, including Rutgers University and Princeton University. There are also two major technology-oriented schools: The New Jersey Institute of Technology and Stevens Institute of Technology. You will also find about 60 smaller colleges and universities in the state, both public and private. Most United States universities require non-native speakers to submit the results of the TOEFL or IELTS tests for admission. Taking a test preparation course in Newark, New Jersey is a great way to get to know the state while maximizing your score when you take these tests. An accent reduction course will prepare you to speak confidently during the personal interview that is now an important part of the application process for many universities.
With English becoming more and more the preferred language for international business communication, studying in New Jersey can give you a strong advantage when applying for a job. Many important national and international corporations have major offices or headquarters in New Jersey. These include major corporations such as Panasonic (electronics) and Prudential (financial services). There are also about 225 foreign companies with headquarters in New Jersey. Taking a Business English course in Newark, New Jersey will give you an advantage in today's globalized business environment.
Where to study English in New Jersey?
Once you've decided to come to the state of New Jersey, you'll need to choose a city. A great choice is Newark, New Jersey. Newark is a smaller city of just over 300,000 residents. Here you'll find the cosmopolitan environment of a larger city but with the more relaxing vibe of a smaller town. There is a vibrant cultural scene, with the Prudential Center presenting top performers and various sports events. The New Jersey Performing Arts Center, in Downtown Newark, is one of the largest performing arts centers in the United States and also presents various genres of music, including classical. The city's cultural diversity is reflected in a wide range of restaurants and cafes for any taste and budget. If you enjoy museums, you'll find several quality art and historical museums. Among these is The Newark Art Museum, which features extensive collections of both Western and non-Western art.