An unforgettable Miami experience!
When I moved here from New York, I wanted the perfect Miami experience. Coming from snow and the cold weather, I needed sun! I wanted a lively exotic place where there were fun and happy people. After an extensive search for a place to live, I decided on the famous Flamingo Apartments located on Bay Road in South Beach. As it happens, this has turned out to be the best decision for me.
The breathtaking views of the Miami skyline and the bay are just one of the many reasons that the Flamingo is the perfect place to reside. The two pools, jacuzzi, barbecue grills, pool bar, volleyball and basketball courts, on site deli, dry cleaners and liquor store are just some of the community's amazing amenities. If you are new to South Beach, which most people are, the Flamingo allows you to meet different people from around the world. I have made many new friends from France, Italy, Spain, Russia, New York, South America and many other places. This is the perfect place for someone new to meet people and develop new relationships. There are pool parties on the weekends, which once the sun sets, continue to the balconies of newly made friends.
If you are a pet owner, the Flamingo welcomes you and your pet. The grounds are convenient for walking your dog along with an enclosed area for your dog to run.
There is a beautiful courtyard with patio tables for those who want to meet other people to improve their English skills. If you prefer waterside, you can walk out to the walkway and sit by the bay. It's the perfect place to take in the sun and learn English with new friends. Sometimes you may be lucky enough to see dolphins or manatees.
The Flamingo's location is a short walk to the Lincoln Road Mall where the LANGUAGE ON International English School is located. It is about a 10 minute walk from the Flamingo or you can rent a Citi Bike for a nominal fee. After studying if you like working out at the gym, the Flamingo is perfect place for your workout. There is a two floor onsite gym that has spectacular views of the downtown skyline. It's also another great place to meet new people when you join a workout class or have a private session with an on-site trainer.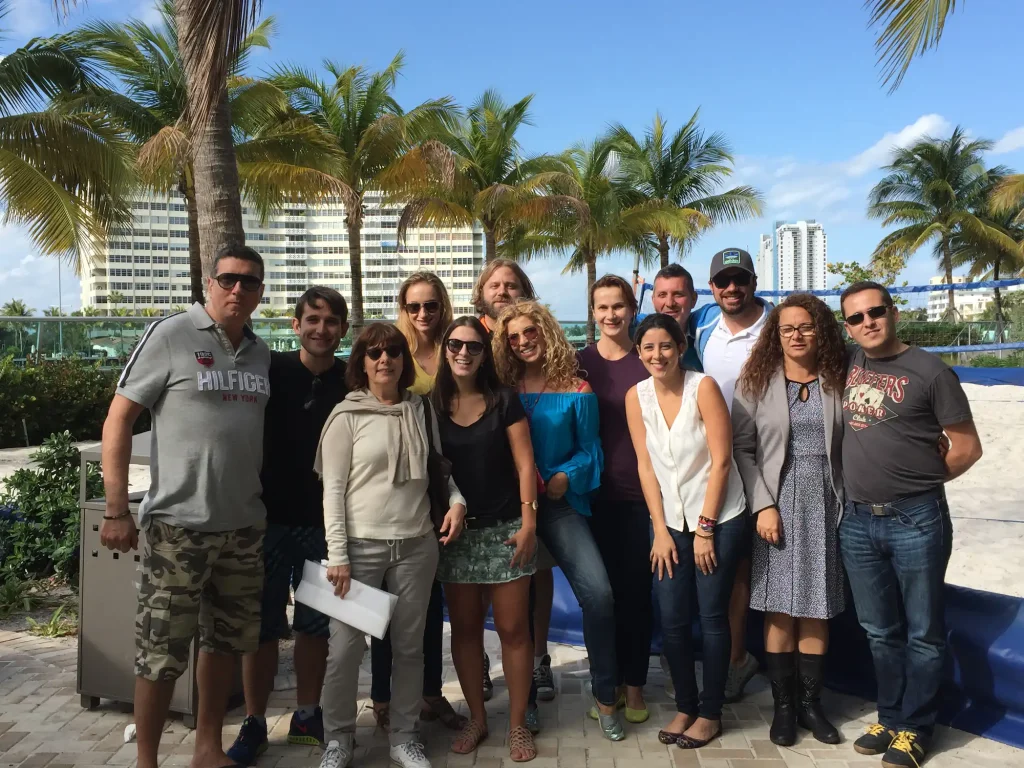 If you want to have the best living experience, you should consider the Flamingo. South Beach is definitely a special place with hundreds of wonderful restaurants and clubs. Whether you are outgoing or a quiet person, everyone fits in at the Flamingo. The white sandy beach at the pool is the perfect place to do your homework and talk with friend to improve you English.
The Flamingo hands down, is known all over Miami for being the hottest spot to live on the beach. We welcome you!
Author: Amanda Knapp
Turn Your LANGUAGE ON!