These days most global businesses require English communication via email. Business emails require special attention as they need to include a certain level of professionalism and formality. Over the years we have helped thousands of ESL students improve not only their general English skill, but their English writing for business purposes. Today I want to take some time to discuss writing business emails.
⇒ Step 1: Know Your Audience & Choose Your Tone
When composing a business email it is very important to know your audience and be clear of the specific purpose of the email or the email thread. The tone in which you write your email dictates the way that your company is perceived. Sometimes being a little less formal is okay, but always stay professional. Think about the reason that you are writing the email in the first place; are you requesting a service, negotiating a price, discussing a complaint, or planning an event or trip? Do they need you, or do you need them? Will there be multiple recipients? All of these factors, and more, should factor in to the tone and style that you choose.
In a business email one needs to be direct, clear, concise, and to the point; all while maintaining a strong and positive image. Remember, you are not in business purely for pleasure (at least most of us aren't) and you have a mission to achieve and a bottom line to watch.
⇒ Step 2: Choose & Write a Subject
"Well, that's easy." Slow down, it is more important than you think. The subject of your email needs to convey the purpose of your email, make the reader want to open it, and be memorable. All of these points are important because after the initial opening the email may stay in your outbox and their inbox for a long time, maybe even forever. You or the recipient might want to search for the email or thread in the future so make sure to use wording that is easily searchable. For example: If I respond to an email from John Doe requesting a business English course in July, I may use the following:

Note, I kept it short enough that the reader can read the email subject on his outlook, apple mail, phone, or any mobile device.
⇒ Step 3: Choose & Write a Greeting
This is a debated point. While it is true that emails are generally less formal than traditional letters, they still need to show respect.
"Should I use a name?"
A message to another business doesn't require name. If you do know the name of the person that you are writing to, then use it. We all appreciate our names to generic introductions. If you don't know the name, choose a polite greeting:
"To Whom it May Concern," (very formal)
"Good morning," (less formal but polite)
"Hello/ Hi," (very casual)
"I have a name. Should I use both first and last names? Should I use a title?"
Depending on the the level of formality you may choose to use a title with the greeting "Dear". We usually use Mr. for a man; Mrs. for a married woman; and Ms. (pronounced Mizz) when we don't know, if we are not sure, or the woman chooses this title; and sometimes Miss for a very young woman although this would be very rare, unless of course you are writing to Miss Jackson. Although it is sometimes acceptable at times to use a semicolon (;) or colon (;) after the greeting, when we write emails we generally use a comma (,).
⇒ Step 4: Write the Opening Sentence
Even though business emails are supposed to be concise, this does not give the writer a license to skip any form of politeness or formality. Choose a sentence which introduces the topic that you are writing about while having a professional tone.
When responding to an email or inquiry:
Thank your for your interest in our Business English Courses.
Thank you for contacting LANGUAGE ON.
When initiating an email or inquiry:
I am writing to inquire about your Business English classes.
Could you please send me some more information about your Business English lessons.
⇒ Step 5: Write the Body
It is very difficult to give you specific advice about writing the body of an email, so I will give you some general advice for writing business emails in English:
Be concise: Being clear is important in business, but it also makes it easier to write and you wont have to worry so much about grammar mistakes.
Use Polite Forms: Using words like would and could automatically give your writing more politeness. It doesn't hurt to use "please" either. You don't have to go over the top by saying "Would you please be so kind as to email a copy of your 2015 rates?" but you can rate "Could you please email me a copy of your 2015 rates?"
Don't give unnecessary information: Keep the email on track and only include the necessary points.
Use appropriate spacing: If you need multiple paragraphs, then make sure that you leave a space between them.
Ask questions in a list: Chances are the person you are writing to has many emails to answer that day, so consider asking your questions in a list form. If you are responding to questions consider using a different color and answering below each individual question.
State the attachments: Make sure to clearly state the attachments which you have included. This will keep the recipient from guessing what they think was included, or what may have been forgotten or gotten lost on the world wide web.
⇒ Step 6: Finish Up & Close
Make sure to finish your email with a polite sentence (or two) which may or may not include expectations for the next correspondence. Something like
"I will wait to hear from you. Thank you for your time"
"Thank you for choosing LANGUAGE ON."
"We look forward to meeting you in Miami."
So what should I finish the email with? Should I use "Truly Yours,"
No matter what your Business English book might say it is not very common to end an email with anything more formal than "Sincerely,". If you want to get more formal than that you should probably be writing a letter and be living pre-1970s. But again, that is just my opinion, and you know what they say about those. People choose their own "close" and usually tend to stick to them for one reason or another. Any one of the following should be fine, and always make sure to use a comma (,).
Sincerely, (as formal as you will need)
Best Regards, (formal and polite)
Best, (less formal but polite)
Thank you, (less formal but polite)
⇒ Step 7: Proofread & Check
You are almost finished! Make sure to leave your name and your contact information underneath your closing. If you don't have one, you may want to create a standard email signature to use on all of your emails. You can include your name, signature, company, contact information, logo, and pretty much anything else you want, except the kitchen sink, of course.
Last, but not least, make sure to proofread your email and check for grammar and other general mistakes. All good? Then send!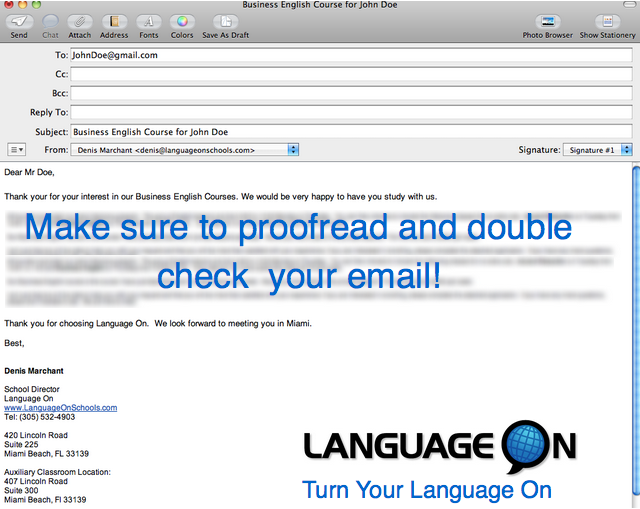 ⇒ Now it's time to send us an email! Do you have any questions about English or Accent Reduction? Let us know, we are here to help. Turn Your LANGUAGE ON!
Happy Halloween! You found our special Halloween logo! Now submit your name and enter to win 5 free English lessons via skype. Contact us, telling us where you found our special Halloween logo! (Contest expires at midnight on Sunday, November 1st)
Instruction for Business English is provided by Premium Languages, the private tutorial, foreign language, and test preparation partner of LANGUAGE ON. Courses provided by Premium Languages are not accredited by CEA and do not qualify for F-1 (student) visas.