Are you planning a trip to Miami or Miami Beach to study English? Read this guide to make the most of your stay in sunny South Florida. I'll address some of the most commonly asked questions to help you decide which English course in Miami is right for you.
Check out all of our English Schools to see which school is right for you!
Before I begin, let me give you some important tips that will help you find just the right English course.
When you contact an English school by phone or email, make sure to give information about when you would like to start and approximately for how long you would like to study. Don't worry–dates can always change, but the English school will need to know approximate time frames so they can provide accurate information.
When the school responds with information, make sure to respond with your confirmation or additional questions.
Don't worry too much about how your English "sounds!" English schools are in the business of helping you learn English. They don't mind that your English isn't "perfect." In fact, they like it. So, be sure to ask all of your questions.
Intensive English Courses in Miami and Miami Beach
What is an Intensive English Course?
Typically, an Intensive English Course includes 18 or more hours per week. You might see the course labeled as an IEP. IEP stands for Intensive English Program. Some English schools may advertise their courses using "academic hours," which are sometimes 45 or 50 minute "hours", not the traditional full 60 minute hour. So, make sure to ask about the schedule of the English course that interests you. At Language On, our Intensive English Course is from 9:00 a.m. to 12:45 p.m., Monday to Friday, which is 18.75 hours per week. We also have afternoon and evening class schedules, but they are not always available. If you have any questions about the English courses in Miami or Miami Beach, please let us know.
Is your English course accredited?
Find out if the English program to which you're applying is accredited. There are two main accrediting bodies for English schools in the USA. One of them is CEA (The Commission on English Language Program Accreditation) and the other is ACCET (Accrediting Council for Continuing Education and Training). Accrediting bodies make sure that English schools follow a set of guidelines and meet many standards that are designed to ensure quality and promote achievement. Language On's English program is accredited by CEA.
What level will I go into? I don't want to be with students who aren't in my level!
This is something that we hear from most prospective students. English courses in Miami and Miami Beach typically have between five and twelve levels, and students are placed into their starting level based on a placement test. Students take their entrance test on their first day or at orientation, whichever comes first. An entrance test is designed to test a student's reading, writing, listening and speaking skills. Schools may use the speaking portion of the test to adjust final level placement. If you feel you are in the wrong level, address this with your teacher and/or director of the school. Language On has a seven level program starting from Low Beginner (A1) through Advanced (C2). Each level is 13 weeks and students need to pass an end-of-term achievement test before continuing to the next level.
Do I need a special visa to study in an intensive English course?
If your primary purpose for visiting the USA is to study, then yes, you will need to apply for the F-1 (student) visa. You may not study in an intensive English program that is 18 or more hours per week if you are participating in the ESTA (visa waiver) program. So, long story short, if you don't have another eligible immigrant or nonimmigrant visa and are not a permanent resident or citizen of the USA, then you will need an F-1 student visa to study in an IEP which is 18 or more hours per week. Language On's English courses in Miami for international students are authorized to enroll nonimmigrant students.
English Course for Visitors to Miami and Miami Beach
I'm coming as a visitor from a visa waiver (ESTA) country. Can I study English?
Yes, you can enroll in a recreational English program that is less than 18 hours per week. This type of program is also known as a semi-intensive English course. Language On's semi-intensive program is also accredited by CEA and follows the same seven level course structure. However, the schedule is from 9:00 to 12:45, Monday to Thursday with no classes on Friday.
How long can I study in a semi-intensive course?
You can study in a semi-intensive course for the same amount of time that you have been given to stay in the USA. Visitors coming on the visa waiver program or "ESTA" are usually given 90 days to stay in the USA. However, when you enter the USA, your passport will be stamped and an exit date will be written on it. You can study until the day that you must leave the country. Just make sure to leave enough time to pack your bags and get to the airport so you don't miss your flight home after you finish your English courses in Miami or Miami Beach!
When can I start my English course?
Some English schools have "rolling admission" structures. This means that students can start at times other than the start of a term, such as every Monday or twice per month. The next question I am usually asked is, "Won't I be behind the students who started before me?" Probably a little bit, yes. But it's better to start studying than not study at all, right? Don't worry too much about when you start. At Language On, new students start every Monday and most weeks one or two students leave to go home. So, choose a start date, pack your backs and start studying in the Language On English Schools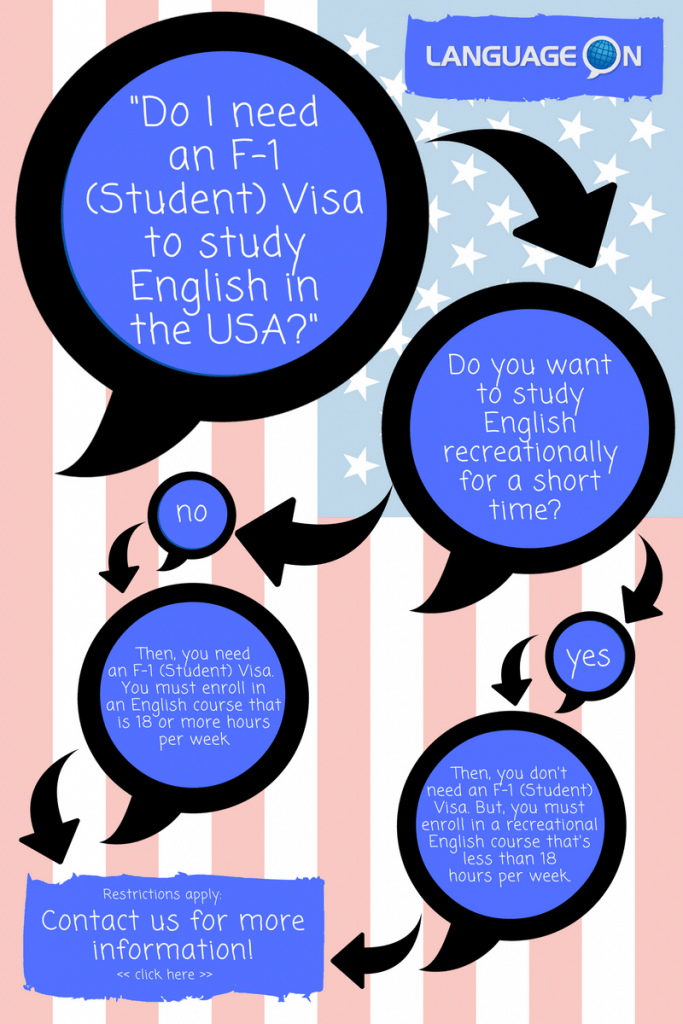 Business English Course in Miami and Miami Beach
What is Business English?
Business English courses are popular choices for many students. As the world becomes more global and boundaries are broken by technology, English is becoming a "must" for many jobs and professions. Students who enroll into this type of course generally need, or will need, to use English in their workplaces. There are many different types of business English courses but essentially, you will learn language related to international trade and commerce. Language On's business English course consists of our general English group classes, in either the semi-intensive or intensive format, plus additional private lessons focused on the language used in business settings.
Private English Classes in Miami and Miami Beach
What is a private class?
A private English class is also known as a one-on-one class or a private tutorial. In this type of educational format, there is only one student (you) and a teacher. Sometimes English schools offer semi-private classes which can be for two or three friends. Private classes can generally be scheduled at any time a teacher has availability, with the schedules and frequency of the classes being variable and flexible.
Should I take a private English class?
You will need to answer this question on your own. However, here are some tips to guide you:
Do you want to create your own schedule? If yes, take private classes.
Do you have a specific focus? If yes, take private classes.
Do you want to be in class by yourself? If yes, take private classes.
Do you generally do better alone? If yes, take private classes.
Do you want to learn at your own pace? If yes, take private classes.
What can I study in a private class?
Anything! The biggest advantage of a private class is that the teacher can focus on the skills or topics that you need to improve the most. For example, if you need to improve your overall grammar skills, a private teacher can work with you to focus primarily on grammar. One of the drawbacks (negative aspects) of a private class is that sometimes a student desires to study only what they want to learn and not what they need to learn If you decide to enroll in a private class, make sure to ask the teacher what they think you need to improve and then make sure to follow their instructions. Don't wait, enroll in private English classes in Miami Beach or Miami today!
Language On's private tutorial, foreign language, and test preparation partner offers the following types of private classes.
General English Private Classes: This type of class covers general English skills: reading, writing, listening and speaking.
TOEFL, IELTS, and Cambridge Exam Preparation Classes: Test prep classes teach specific test-taking skills and strategies. Students who are preparing for an English proficiency test often choose to enroll in this type class.
Accent Reduction Classes: Accent reduction classes focus on pronunciation and other strategies to help non-native speakers speak in a standard neutral accent.
Other: Other popular areas of focus for private classes are Business English, Medical English, and Legal English. Do you have another need? Please let us know and we will be happy to accommodate you.
Have you decided which English course in Miami or Miami Beach is the right one for you? If not, please contact us.